Bear Creek Coffee Co.
Branding & Signage
Designed to pay homage to the log cabins found in northern California, Bear Creek is a coffee shop targeted toward the discerning and rugged gentleman. Ladies are, of course, invited to take part in the delicious drinks and treats, but Bear Creek reaches out to a segment largely neglected by specialty coffee shops: young men. The décor and food are all-natural and hearken back to a simpler time when men were men and coffee was coffee and not something occasionally added to a cup of sugar.
Magazine Ads
To advertise the nascent coffee shop, I created a series of ads that would run in magazines and that feature cheeky copy on top of strongly nostalgic photography of the great outdoors.
Ad 1: "Comes with three shots of adventure"
Ad 2: "Perfect for a brewed awakening"
Ad 3: "Because café is a four-letter word"
Ad 4: "For those who take it black"
Screen-printed Menus
The three menu boards were screen-printed onto wood to continue the rustic flair. The menu items were chosen to embrace a culture that is health- and wallet-conscious but doesn't want to be overwhelmed with options. Bear Creek doesn't offer flavored syrups or cups of diabetes, and all of its food is grown responsibly. And deliciously.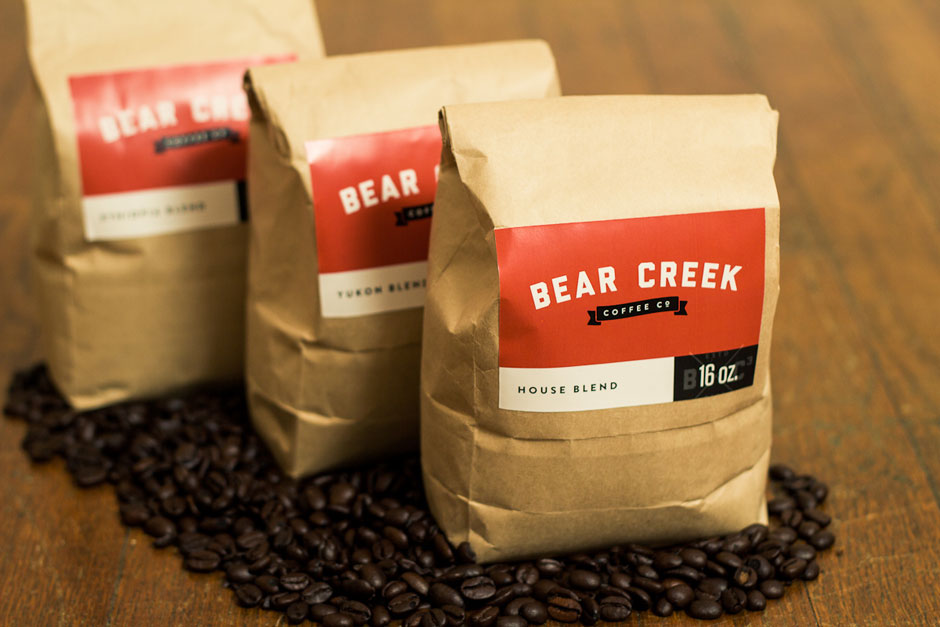 The Coffee
What is a coffee shop without coffee? It's like peanut butter without jelly, George Clooney without an amazing head of hair, or a Mac without a hipster. (Just kidding. But seriously, folks.) Here you can see three varieties of beans, from light to dark roasts.
Screen-printed Notebooks
More cheekiness! I'm sure you practically have a canker sore at this point, but bear with me (GET IT? BEAR?!). These screen-printed notebooks are sure to brighten any caffeine addict's day. Other than, y'know, coffee.